This has been our first official week on our own. We are so grateful to have such wonderful families. They've come in town to love us, support us, cook, clean, run errands, and be babysitters so we could go on dates. Thank you, thank you, THANK YOU! I feel like Jewel and I are finally in a groove. I told her, 'we've been in this thing together for a while, so be patient with me'. Luckily, she started listening about a week ago. Thank you Jewel. I will say it feels good to have a normal appetite, and a desire to create in the kitchen again. Not mention, permission to at least walk, for exercise, has been a true gift as well.
Our clock is beginning to look a little normal, knock on wood, but a savory breakfast for dinner was a nice treat for us. You have to try this! Not only is it delicious, it's cheap! Happy breakfast for dinner to ya!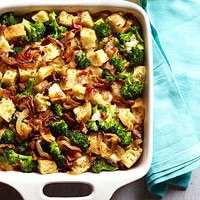 Caramelized Onion Breakfast Casserole
(From Better Home & Gardens)
Directions:
In a large skillet cook bacon until crisp; remove bacon, reserving 2 tablespoons drippings in the skillet. Crumble bacon; set aside. Add onion to skillet. Cover and cook over medium-low heat for 15 minutes, stirring occasionally. Uncover and cook over medium heat until caramelized , about 5 minutes.
Meanwhile, in a small saucepan cook broccoli for 3 minutes in enough lightly salted water to cover; drain.
In a large bowl combine eggs, milk, basil, salt, and pepper. Stir in bread, broccoli, cooked onion, cheese, and bacon. Transfer to a 2-quart square baking dish. Cover and chill 2-24 hours.
Preheat oven to 325° F. Bake casserole, covered, for 20 minutes. Uncover and bake 20-30 minutes more or until knife inserted near the center comes out clean. Let stand 10 minutes before serving.
Wouldn't be complete if I didn't attach some pics of the nugget. Her she is 4 weeks old.